Summary

The 4 major players in the solid waste management industry are Waste Management, Republic Services, Waste Connections, and Clean Harbors.
The Waste Expo 2016 happened this week. Two major themes were technology and innovation, and the cost of recycling.
Recycling has become too expensive for many waste management companies, including the largest in the country.
Introduction
The solid waste management industry is characterized by large barriers to entry, regional monopolies, and a few big players. A great option during economic downturns, these companies have proven their storm-weathering abilities with stable growth year after year. Here's how they fared during the recession compared to the S&P500: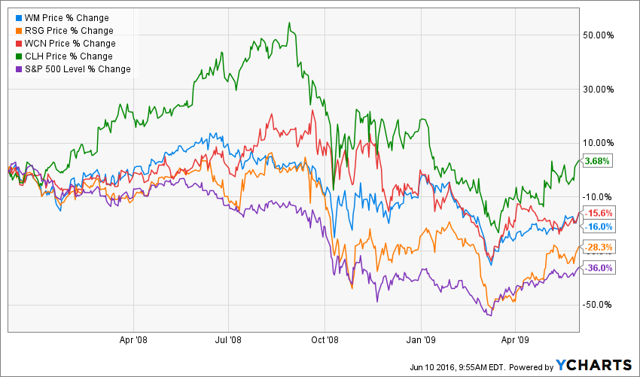 Here are the 2016 Waste Management Company Rankings in terms of revenue. Note that Progressive Waste Solutions and Waste Connections were not merged at the time this list was compiled: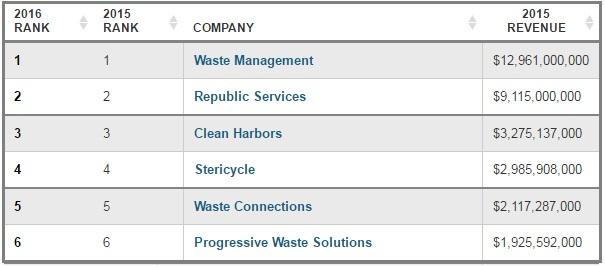 Here's what the rankings would look like after the merger, assuming the Progressive Waste Solutions and Waste Connections are considered to be a single combined entity whose name is Waste Connections, and making the leap that the revenues can simply be summed (for the purposes of this article, this simplifying assumption will do):

In this article, I will be looking at the top 4 companies on this list. If you'd like to read more about Stericycle, here is an article on long-term regulatory issues, and here is an article on their botched acquisition of Shred-it. Stericycle specializes in the disposal of regulated waste substances, including medical and hazardous waste.
The Players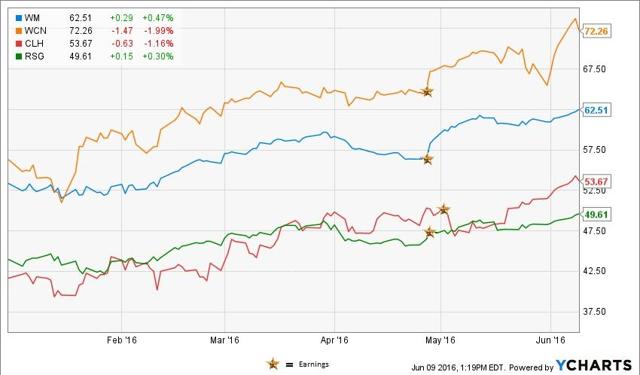 data by YCharts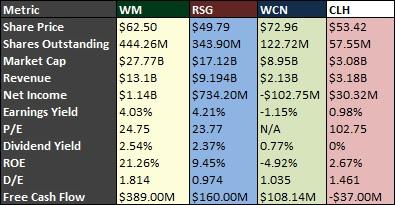 Waste Management Inc (NYSE:WM) has been in operation for 45 years, has about 42,700 employees and has a market cap of $27.86B. And just as a warning: this isn't the most exciting stock. This is the largest company in the industry, and is known for consistent (though slight) dividend growth, share buybacks with no regard for price, and general managerial excellence. I think Waste Management took the phrase, "haste makes waste" too seriously in setting their dividend growth rate, but how can you complain when they've increased dividends for the past 13 years? Shareholders who value sleep love these guys. (Caleb Jensema wrote a terrific article on WM back in January)
Waste Connections (NYSE:WCN) has been around for 19 years, has about 6,800 employees and has a market cap of $8.55B. As noted above, theyannounced a merger with Canadian company Progressive Waste Solutionsback in January. Under the structure of the deal, Waste Connections was actually "acquired" by Progressive Waste Solutions to take advantage of the lower tax rate. However, this does not look like an inversion just for the sake of inversion. The two companies have very similar operations, and expect significant benefit from synergy in the coming years. The benefit from the inversion was lessened by the new inversion rules announced by the Treasury on April 4th.
Clean Harbors (NYSE:CLH) was founded in 1980, has about 8,300 employees, and has a market cap of $3.12B. The company, like most in the industry, hasgrown through extensive acquisitions. For example, their 2012 acquisition of Safety-Kleen made them the largest "re-refiner and recycler of used oil in the world and the largest provider of parts cleaning and environmental services to commercial, industrial, and automotive customers in North America. Clean Harbors has a more diverse range of services than most companies in this industry. They are involved in chemical packing, transformer services, emergency response, lodging, seismic services, surface rentals, directional boring, and a number of other lines of business.
Republic Services, Inc (NYSE:RSG) is the closest rival to Waste Management in this industry, despite being founded in 1998. This is a bit misleading, as they were spun off from waste disposal firm Republic Industries, which was founded in 1981. The company has about 36,000 employees, a market cap of $17.18B, and actually has more collections operations (427 to 413) than its larger competitor. Republic Services had shown unparalleled dedication to solving environmental issues in the U.S.
Financial Comparison

As stated above, Waste Management is the largest company in the industry, followed by Republic Services, Waste Connections, and then Clean Harbors. The PEs and yields of Waste Management, Republic Services, and Clean Harbors have historically been fairly consistent (except for the anomaly in2014-15).
Waste Management and Republic Services Prices and PEs: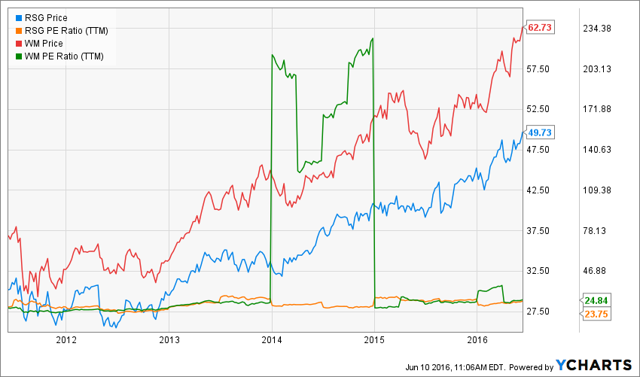 Waste Connections doesn't have a relevant PE (the table above should say N/A rather than 0) because they lost money in the last 12 months. Clean Harbors had an adjusted net loss of $12.9M ($0.22) per share. Their PE of 102.75 is actually 11.25% below its historical average, so one could argue they are trading cheap (I won't).
Here is Clean Harbors added to the chart (without their prices).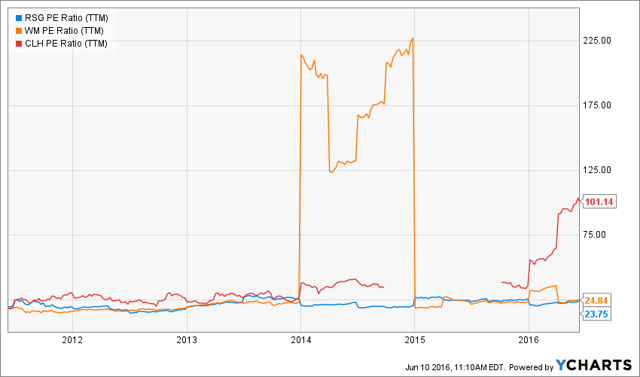 EPS guidance for FY16:
Waste Management: $2.74-2.79
Republic Services: $2.13-2.17
When asked to comment on the subject, Waste Connections and Clean Harbors responded: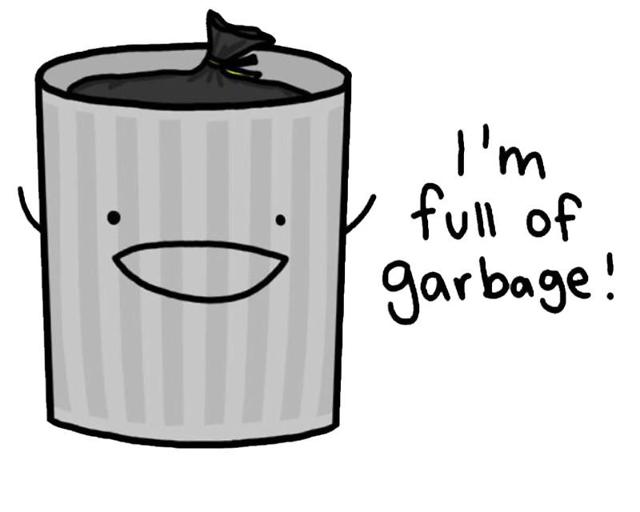 Republic Services is has been putting significant investments into developing new technologies and starting initiatives across the country. The company plows back about 45% of earnings. Compare this to Waste Management's 29% retention and we begin to see why Republic Services has been more successful in terms of innovation. Clean Harbors and Waste Connections take a totally different approach to dividends. Waste Connections pays out about 20% of its earnings as dividends, while Clean Harbors pay no dividend. Waste Connections has be achieving growth through acquisitions. Rather than seeking out innovative projects, they try to buy them (this is not unique to them). Clean Harbors and Waste Management have both engaged in share buybacks recently, with Waste Management making these purchases while their stock is at an all-time high.
Waste Expo 2016
Everyone's been waiting to hear the highlights from the 2016 Waste Expo in Las Vegas. No? You weren't? Well here they are anyways. This week from Monday through Thursday was the largest waste management industry event of the year. The latest products and technologies were on display. Two of the most prominent themes at the conference were technology and innovation andthe cost of recycling.
Technology and Innovation
Republic Services has been an industry leader in technological advancement:working on converting landfill gas to energy, solar energy products, and a natural gas vehicle fleet. This is in line with a broad industry (and global for that matter) trend towards sustainability. Here are a few highlights from theirsustainablity plan:



According to Waste360, there was a wide array of technology on display at the expo. "The technologies and approaches differ. But in general the trend is that there are an increasing number of options for having sensing devices that can be placed in waste containers to help communicate to hauler and generators how full the bins are."
OnePlus CEO Klaus Voss, who was at the expo this week, said, "The capital intensive variable in the business is hauling. Servicing the volume of waste and the number of carts in the field more efficiently is a big opportunity for savings."
Cost of Recycling
Last year, Waste Management Chief Executive David Steiner said:
Recycling is in a crisis. It isn't profitable for us, and we have to react to that by shutting down plants.
Waste Management is the largest recycler in North America. If they are not able to benefit from economies of scale enough to make recycling profitable, we have a serious issue on our hands.
A major issue across the board is that people are putting things in their recycling bins and public bins that cannot be recycled. This is forcing waste management companies to spend more and more time sorting through the piles, which is very expensive.
Yon Lambert, the director of transportation and environmental services in Alexandria, Virginia said:
In the past, we had been telling people that, if they had any questions, put it into the recycling stream. Now, we're recognizing that making recycling work actually requires some recognition that it's not as easy as we once communicated it to be.
Back in March, Waste Management entered into an agreement with the City of Houston to process and resell its recyclables for the next two years. The company will receive $90 per ton for its efforts for a total of about $5.76 million. The original deal proposed by Waste Management was a six-year contract worth $18 million, but they settled for the smaller deal because of one major concession: No glass. Waste Management is promised 75% of Houston's recycling stream, none of which will include glass. The mayor of Houston says "glass generally breaks during collection and transportation to the processing site. It is also unduly destructive to the processing equipment" (HPM). This will result in a lower processing cost for Waste Management, and may ultimately serve as a model for enticing companies with recycling infrastructure to make deals.
In addition to the lack of sorting by consumers weighing on profitability, low commodity prices have been affecting recyclers' bottom lines. Plastic is derived from oil, and the recently low crude prices are "an incentive to make fresh plastic. That means recycled plastic becomes less attractive because of the work it requires to sort and clean it. All told, lower energy prices are creating a perfect storm for waste management companies." Crude is up over 80% fromits low earlier this year, but it is still in a range that adversely affects the economics of recycling. Steiner also cited aluminum, copper, iron, and paper commodity prices, which have fallen since 2012, as causes for their unprofitable recycling operations.
Augmenting the problem is the strength of the dollar, particularly relative to the yuan. This fact coupled with the slowdown in the Chinese economy is weighing on profits, as China accounted for a large percentage of U.S. international recycled materials sales last year.
Waste360 noted that the Paper & Plastic Recycling Trends and Markets sessionhad some extremely valuable insights from industry leaders. Patty Moore, president of the Moore Recycling Associates said, "I think that the issues of global oversupply of virgin material are temporary because we expect to see some normalization that will take some of the older, lower-efficiency facilities offline. The normalization we expect will hopefully help bring value back into the recycling system."
The problem Patty touches on here is the same problem being caused by the low crude prices. The market is being saturated with new plastic, decreasing the cost of these "virgin" materials, and making recycled plastic less desirable.
Conclusion
The recession-proof demand in this industry will keep the oligopoly in business for the foreseeable future. The biggest risks are regulatory in nature, but they do not seem great enough to drive any of these companies out. Recycling has become a huge issue in the United States, and municipalities are left scrambling to figure out what to do with their recycling when a company like Waste Management decides they will no longer pick it up because it isn't profitable. My favorite part about this industry is the diversity of the customer base. Waste Management, for example, has "over 21 million customers, none of which make up more than 1% of total revenue" (Jensema). Unless people stop creating garbage, I like this industry to provide a consistent return for investors.
The post The solid waste management industry capitalizes on these guys appeared first on AW Sites.